Zanzibar is made of many Islands but two main are Unguja (mainly known as Zanzibar) and Pemba. The name Zanzibar was derived from a combination of two Arabic words ''Zenji'' which means Black and ''bar'' which means Land.
 Zanzibar is the home of Swahili culture, Arabic and Indian culture.
The Island is just 35 km from Tanzania Coast, 6° south of the equator. Zanzibar Island is 60 miles long and 20 miles wide.
The islands are famous due to its unique and old history; The Persians came to Zanzibar in 10th Century followed by Portuguese in 15th Century.
Portuguese arrived in Zanzibar in 1498 whilst charting route to India, The main interest were just to rest but the richness of Swahili traders attracted them. In 1503 Zanzibar was attacked by Portuguese under Captain  Ruy Lourenco Rauasco who claimed most of the gold from Mwinyi Mkuu (Swahili ruler) Zanzibar has been passed by explorers like Speke, Bunton, Livingstone and Vasco da Gama in 1502 en route to India.
Zanzibar is the best place to combine after safari for relaxing, after spending days in the bush and many hours sitting in a safari vehicle, its now a time to lay on the white sand beach watching African blood red sunset.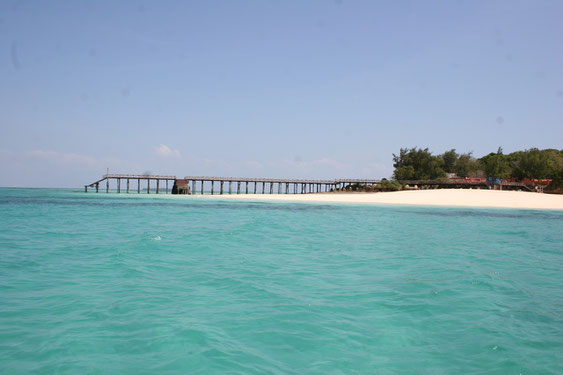 Prison Island is small located in North-West of Stone town just 25 minutes by a motor boat. The Island had been once used by Arabs slaves' traders to keep their slaves before sending them to new owners in Europe and Middle East.
The Island is famous for giant's tortoises which one may pet and feed. The tortoises can grow over a meter tall, Oldest tortoise is said to be 150 years old.  These tortoises were a gift from the British Governor   of Seychelles in 19th Century.
The Island has a white beach and also surrounded by Coral reef that helps well for snorkeling.
The best place to spot dolphins in Zanzibar is Kizimkazi village which located in the Southern Coast of Zanzibar Island. The common Dolphins species in Zanzibar are bottle-nose and humpback Dolphins.
Kizimkazi coast is a favourite place for Dolphins has they come for food, to nurse their calves, socialize and to rest.
Dolphin tour is usually done in the morning as the water temperature is low, as Dolphins preffers cold water and during afternoon the water temperature rises due to sunrises and that makes Dolphins to dive deep down to the Sea bottom to escape the heat.
The forest is 6,207 acres and was declared a nature reserve in 1960's; Jozani forest is located in the central east region of Zanzibar Island. The forest contains about 100 tree species.
 Jozani forest is the home of Red colobus ( piliocolobus kirkii), The forest is characterized by ever green mixed forest, dry bush land, shrub and mangroves.
---
Zanzibar history is connected to spices and herbs as the Island had been once one of the important spices and herbs producers in Africa and Worldwide generally. Due to the present of spices plantation in Zanzibar many tourist use their time in the Island to visit spice plantations.
A walking guided tour through villages and spice plantations will give you a chance to see, taste, and feel various spices and herbs which are grown in Zanzibar.
During the tour you will be decorated with palm-leaf accessories like ties, rings, bracelets and glasses.
Usually spice tour includes traditional Swahili lunch served in spice farms, here you will be able to get a really taste of the spices in the food.
At the spice plantations is nice place to buy fresh spices direct from small farmers.
---
Is a half day guided tour of an amazing historical stone town, Stone town is rich in history and is on UNESCO's World Heritage list. A town is one of the East Africa's best old towns and when in Zanzibar a visit to this wonderful old town is a must.
A tour guide will take you on a walk to stone town streets (walking through colorful streets surrounded by Palace and Arabian residences with beautifully carved wooden doors), Darajani Market, The old fort, House of Wonders, The old Catholic Church, The former slaves market, Old dispensary, National Museum of Zanzibar.
At the end of the tour will be a time for shopping if needed.